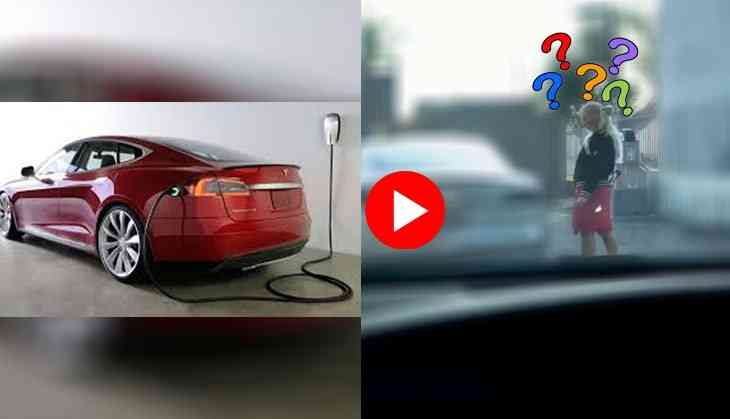 Thanks to social media which keep on infotaining us with some amusing things that we even can't imagine in our day-to-day life. It is not wrong to say that social media has become a huge platform for talented people which helped them to become famous.
However, some people did some stupid things which also made us laugh out loud! Now, another video went viral on social media which is all set to bring a big smile on your face.
In the new viral video, a blonde woman can be seen filling petrol in her electric car at a petrol station in America.
The woman is trying to fill a Tesla car with petrol at a petrol station.
The video has been recorded by a man in which she can be seen trying to find a fuel tank output on her Tesla's Model.
After watching this three minute-25 second video, the netizens also go crazy and couldn't hold their laugh.
As the woman struggled a lot to find the fuel tank outlet on her car.
However, the man who had recorded the video can be heard laughing along with his co-passenger.
In the video, a woman can be seen taking several rounds around her car in which she also is seen calling someone for the help, in order to know the fuel tank outlet on the car.
Later, two men approached her and helped her in clearing her confusion.
The woman also burst into laughter after knowing about her stupidity like all of us.
Tesla is a premium league automobile manufacturer, which manufactured electricity enabled automobiles.
Also read: Flashback 2018: Donald Trump toilet brushes to Dancing uncle, happenings around the world that went viral this year