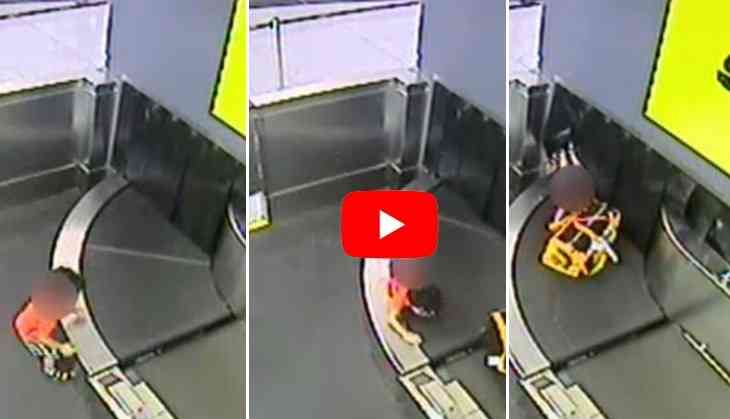 Social media is full of dreadful things which can give us goosebumps. Recently, a hair-raising video has come to light in which a toddler had a narrow escape from a major mishap.
A horrifying video is doing the rounds on the social media in which a toddler climbed onto a baggage belt or conveyor at the Atlanta airport in the USA.
As per the reports of CNN, the child's mother Edith Vega said that she put her son down to get her boarding pass from the Spirit Airlines desk at the Airport on Monday. Abruptly, her son disappeared and she didn't understand where he had gone.
In a short span of time, he rushed to the baggage belt and then, moved to the TSA bag room. In the video, it can be seen that how he sat on the belt and was moving along with the baggage belt. In the last of the clip, the toddler was spotted by the officials who halted the belt and get him down.
Talking about the incident with CNN, Edith said that her son was on the luggage conveyor for around five minutes.
She said to CNN, "He just went a long ride away, I couldn't even catch up. I wanted to jump in and try to go get him, but they didn't allow me."
See scary video:
Isn't a horrying video? Comment...
Also Read: Scary! Watch how joyride turns into nightmare after it breaks down; what happens next will give you goosebumps!