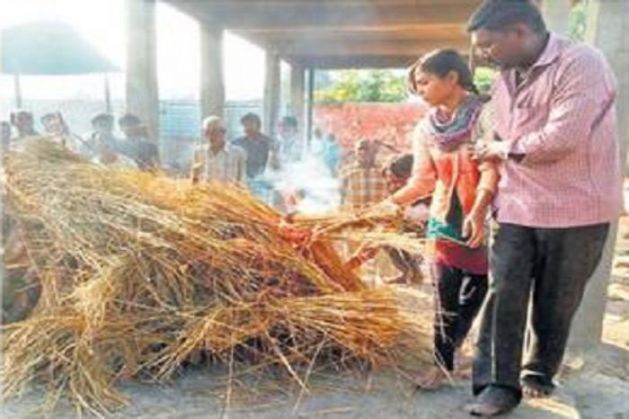 In a Gwalior village, three sisters ignore objections from relatives and society and perform the last rites for father themselves.
Despite death threats, sisters perform father\'s last rites and are ready to complete the rest of the \'shradh\'.
In a village in Gwalior, three sisters are facing the ire of the society for cremating their father. Ignoring the objections raised by relatives, Poonam and her sisters decided to perform the last rites. They have remained unrepentant even after receiving threats to their life and social boycott from the society.
Kishan Lal Chawariya, breathed his last in his small house after a prolonged illness on 7 December, leaving behind his three daughters.
He had no son, following which the society decided that the elder sister's son will perform the last rites but the deceased's eldest daughter didn't agree with the decision. She decided that the youngest sister Poonam will do the last rites.
Opposing the society and relatives, Poonam finally cremated her father, taking the help of police, who also tried to convince the elders of the society. Now, she is determined to go ahead with the rest of the 'shradh'.