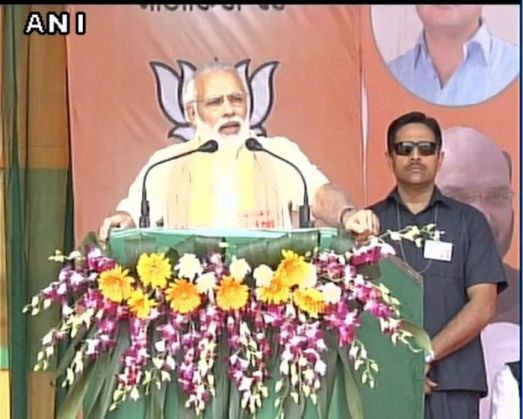 Prime Minister Narendra Modi kickstarted the BJP's electoral campaign in the poll-bound state of Assam with a rally in Tinsukia on 26 March. Lashing out at the state government, Modi said that Assam had gone from being one of he most prosperous states in India during the time of Independence to one of its poorest today.
PM Modi said that his battle in Assam was not one against Chief Minister Tarun Gogoi but one against poverty. He said:
"My fight is not against CM Tarun Gogoi ji, my fight is against poverty and corruption... Assam was one of the most prosperous states at the time of independence. Today, it is one of the poorest. There are many villages in Assam which don't even have electric poles."

Photo: ANI
The PM also said he was assigning BJP minister Sarbanand Sonowal to Assam for campaigning. The Prime Minister is scheduled to address five public meetings in Assam on Saturday and two others on Sunday, at Tinsukia, Majuli, Bihpuria, Bokakhat and Jorhat.
At his Tinsukia rally, he said that though the word 'Tinsukia' meant happiness, the district was anything but and that the BJP would work to bring back the happiness. "Naam toh 'Tinsukia' hai lekin dukhiya hi dukhiya nazar aata hai. Hamara sankalp hai ye 'Tinsukia' ko sachche arth mein 'sukhiya' banana. Jan jan ko dukhiya se sukhiya banana hai," he said.
"You gave 60 years to Congress expecting good things, I ask nothing but 5 years from you."

Photo: ANI
The PM said that all-round and speedy development was only agenda for the party. "Mere teen agenda hain-Vikas, Tez gati se vikaas and Chaaro taraf vikaas," he said to a cheering crowd.
Assam is slated to go to polls in two phases on 4 and 11 April.
- With agency inputs