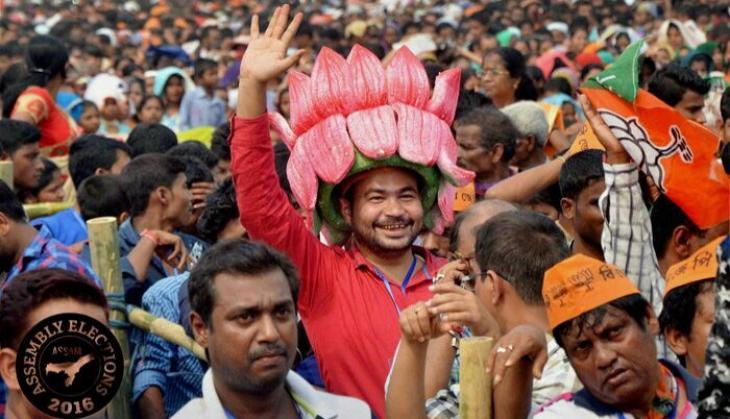 The Tarun Gogoi-led Congress is on its way to losing power in Assam. The BJP is all set to form its first government in a north-eastern state. The trends show BJP and its allies have already crossed the halfway mark in the 126-member assembly. Whereas, the Congress tally is likely to be reduced by more than half from 78 seats during the previous election. The saffron party had managed to win just five seats in 2011 state polls.
Here's a look at some of the reasons for BJP's phenomenal turnaround in Assam:
Migrant voters
The schism between Assamese and non-Assamese identities has always reverberated in Assam politics. The migrants hold sway over at least 34 constituencies. The BJP had promised legal citizenship for Bangladeshi Muslims who had migrated before 1951. The voters seem to have reposed faith in this assurance.
Anti-incumbency
The Congress has been ruling the state for 15 years under the leadership of Tarun Gogoi. The poll analysts were expecting a wave of anti-incumbency against the party. Furthermore, the ageing Gogoi is considered to be only a shadow of his past self. Many of his trusted lieutenants have already left him. In contrast, BJP had pitched a much younger Sarbananda Sonowal against the octogenarian Congress leader.
Wooing Muslim voters
The Muslims constitute around 34.2 per cent of the total population of Assam. They are a deciding factor in at least nine out of the 34 districts of the state. No party can hope to do well in Assam without reaching out this community. The BJP had done exactly the same during its campaign. The party leaders went out of their way to stress that it is only against illegal migrants and not against Muslims as such.
The support of tribal voters
Over 60 lakh tribals of the tea belt of Assam are known to be the traditional Congress supporters. However, a large chunk of this vote bank shifted towards BJP during 2014 general elections. This was the reason the party had won Dibrugarh, Jorhat, and Tejpur seats of tea garden region in those polls. The results show these voters have not lost faith in BJP.
Targeting youth voters
Out of total 1.98 crore voters, over 76 per cent are below the age of 50. Around 31 per cent of these are less than the age of 30. Approximately 6.75 lakh youngsters were first-time voters in these elections. The unemployment was a major issue among this section of the population. The Sonowal factor seems to have worked among the young voters.