Catch Team
| Updated on: 26 September 2016, 17:36 IST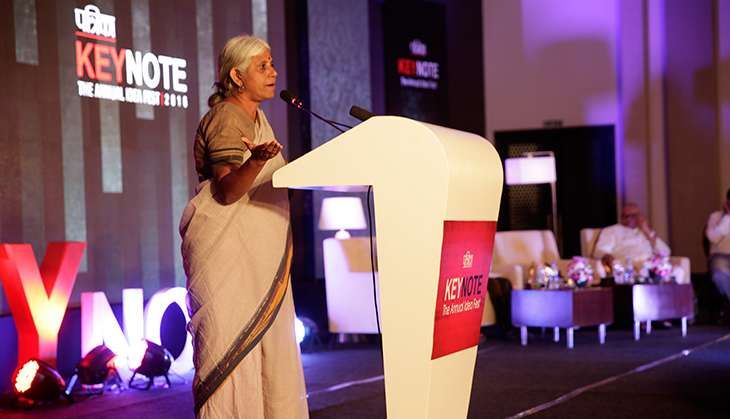 The third session on Day 1 of Patrika Group's 'KeyNote - The Annual Idea Fest 2016' carried a particular intensity. Titled 'Nailing NAXALS', the session saw Chhattisgarh's Special Director General of Police (Naxal operations), Durgesh Madhav Awasthi, square off against Bela Bhatia, researcher and social activist based out of Bastar.
Also present was Prabhakar Gwal, whose service as the chief judicial magistrate of Sukma district who recently terminated. He was seen as an objective voice when it came to passing judgements on Maoism-related cases, and the only proper explanation that was given for his termination was that it served "public interest". Eminent tribal leader and former union minister Arvind Netam was also part of the session.
Arvind Netam spoke at the annual Patrika Keynote, 2016
Also read -Happiness, progress and tribals - Soumya Dutta and Ashok Bhagat at Annual Idea Fest 2016
The Chhattisgarh crisis
Prabhakar Gwal talks about fake cases and false surrrenders, Patrika Keynote 2016
Gwal set up the dialogue with his observations on the precarious status of Chhattisgarh today. Not holding back on his statements, Gwal said during his term he had seen numerous cases of arrests and surrenders by 'Naxals' - most of them fake or staged. Despite repeated complaints to higher officials, no action was taken.
Netam too had similar views to share as he took on the government for inaction: "Back when Naxalites were coming from Andhra to Bastar, that's when I had started work. But which government has given this problem the serious consideration it deserves? None, except for Indira Gandhi in her time."
Numerous fake cases are passed off as Naxal activities, said Netam too, pointing out the plight of the common man in the region: "If you step out in the morning, there's no guarantee you'll return by night."
Bhatia started her speech saying upfront that "Bastar is in a crisis" and that the place has seen "serious counter insurgency since 2005." She pointed out that, "There's been a lot of violence and subsequent criticism but how has the government changed its strategy? The government hasn't learned a thing."

Also read - An open letter from Bela Bhatia's partner Jean Dreze

Bhatia said though it might be a surprise to some, "there are more forces here than in Kashmir... you'll understand what occupation is when you travel inwards from Jagdalpur into remote territory." Drawing a comparison Bhatia said what the United Kingdom did in Malaysia and the United States in Vietnam, India is, sadly, doing to its own people.
She reserved special criticism for the minor vigilante groups that formed after the Supreme Court said Salwa Judum wasn't legal. After that order, there have been similar groups that cropped up in different places - mini Salwa Judums, as they were. Bhatia said it's interesting how most such vigilante groups use adivasi faces. So either way it is the adivasi who will be targeted in conflict.
The establishment's defence
Durgesh Awasthi for his part tried to counter Bhatia's tirade with a bit of self-indulgent humour as he said, "I just heard a long chargesheet on Naxalism from the esteemed Bela Bhatia." Awasthi had two major points to make. One was that he doesn't condone any wrongful act on part of the forces - the law, he insisted, is the same for everyone and if any police is found guilty of any act against tribal women (to counter Bhatia's point of how there've been many rape cases by the forces), action would be taken.
But the Naxal violence he's seeing now isn't something that is tolerable. "Blowing up schools and other essential facilities" isn't something that could have had roots in the peasant movement of the 1970s. The violence being witnessed now is on another scale and serves little purpose, he said.
The other major point Awasthi drummed up was that the forces, too, need encouragement and a bit of sympathy. "An officer from Srinagar has no desire to come here in places like Bastar, but he does so because it's a duty... These officers live in remote areas alone far from their loved ones. They too need some support for the difficult lives they lead."

Also read - 'I will not leave Bastar': activist Bela Bhatia in an open letter

Awasthi also countered Bhatia's assertions about the "mini Salwa Judums" by saying that most of the tribals have been unable to get employment and face severe deprivation. "Collectives, like say, the Bastar Battalion, help in some ways for them to come into the mainstream. Where would they have gotten a job anyway?" he asked, stating it's a voluntary decision to join.
He said castigating the police needlessly won't help because at the end of the day, they're the ones who'll be able to protect the people. Awasthi rounded off his defense by urging people from across the spectrum to try and develop the more remote regions - especially by building infrastructure like toilets and schools - "Efforts like these can make a huge difference."